Corona is the most valuable brand in Latin America
According to a new ranking done by BrandZ using data from consulting firm Kantar Consulting, Corona is Latin America's most valuable brand in 2018. The ranking takes into account how much a brand is worth in monetary value and identifies it's growth percentage. Corona has grown over 8% in the past year to have a total brand value of over $8 billion.
The Mexican beer knocked it's Brazilian beer counterpart Skol out of the top spot. Corona grew 8% in terms of brand value over the past year to nearly $8.3 million whilst Skol only managed 1% growth over the same period. Skol has been on top of the rankings for the past two years and is worth just over $8,2 million.
Kantar Consulting holds the BrandZ brand valuation annually and the ranking has become a market benchmark for the most valuable brands in the world. Kantar Consulting is a subsidiary of WPP and is a strategy and marketing consultancy that harnesses the power of people, technology, data and digital advancement to create meaning and purpose for over half of the fortune 500 companies across 100 countries.
Corona took the top spot this year, demonstrating it's ability to engage with consumers all around the continent. Through innovation and creativity, Corona has managed to create a "lovemark" brand association which has given it high brand popularity. This year was a campaign about 'desfronterízate' (remove your orders) wherein "Corona encouraged a whole generation to rise up, chase their passion, and seize their moment."
The brand has also become the sponsor of highly influential music events, football clubs, sports and entertainment events which shows investment in customer engagement and drives loyalty. By combining a strong Mexican heritage with campaigns like "From Where You'd Rather Be", Corona has created a brand association that is all about relaxation, fun and music.
Corona is not the only Mexican brand featured in the top 10. Communication Providers Telcel and retailer Bodega Aurrera also featured on BrandZ's ranking with a total combined net worth of almost $10 billion. 2018 is the fifth year in a row wherein Mexico dominated the charts, responsible for a total of 35% total brand value across the entire Latin market.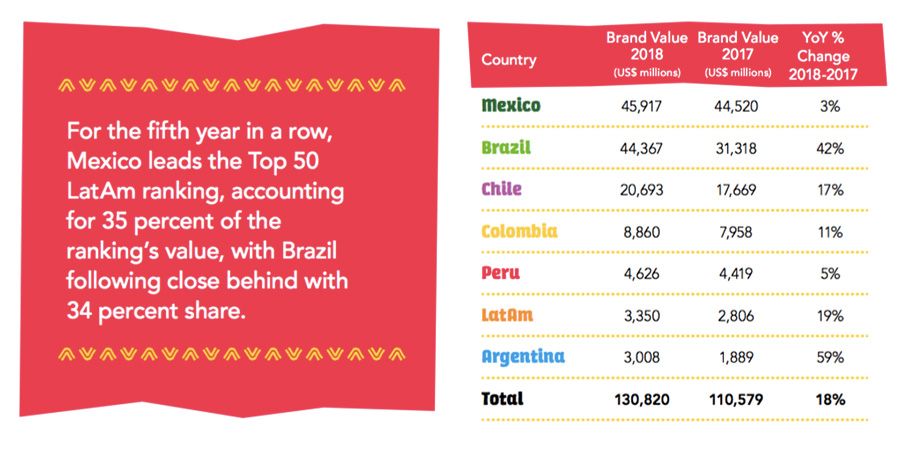 Brazil was not far behind, however, with 34% of market share in terms of brand value with it's retailers and financial institutions performing strongly. Bradesco, one of Brazil's largest banking and financial services companies grew 58% to take the third spot overall with a total brand value of just over $7 billion. Next on the list was Itaú, another Brazilian financial institution with over 5,000 branches in Latin America.
Latin America performing strong in 2018
Overall, Latin America recovered from a disaster year in the 2017 ranking when the region's brands slumped 22% in total value. Throughout the past year, the region as a whole has seen strong growth with a 1.3% rise in GDP over the past year. The 2018 ratings tell a similar story with total brand value across Latin America growing to $130.8 billion, up 18% from last year. This growth was attributed to leading brands across the region staying relevant and adapting to the changing landscape across the continent.
Kantar's Eduardo Tomiya stated that; "Latin American brands have an in-depth understanding of their local consumers". As consumers in Latin America choose their products based more on a strong emotional connection to a brand rather than the more conventional criteria, brands need to construct a sense of customer pride in their brand.
This will affect "the speed at which they can tap into local consumers' needs with good products and strong marketing campaigns has made many of them more successful and relevant in the region than their global counterparts. As a result, Latin Americans have great respect and pride in these brands," continued Tomiya.
Beer, food and personal care products were the most significant categories in Brazil, Mexico, Colombia and Peru. In Chile (which took 16% of total brand value), retail has emerged as the major industry in the country this year. Meanwhile, with Brazil returning from a two year economic recession, the value of brands increased by 23% over the year to 2018 and is worth a total of $65.1 billion.
"The power of strong brands to drive improved business performance can be clearly seen in this year's Latin America Ranking. While the economy may fluctuate, those brands that are strong will remain more stable in the tough times and grow faster in the good times," said WPP's David Roth.